In the aftermath of a tragedy like the Valentine's Day shooting at Marjory Stoneman Douglas High School in Parkland, shock and heartbreak extend ripples through our schools, neighborhoods, gathering spaces and places of worship. In the moments when it becomes difficult to comprehend how such terrible acts of violence are possible, we are often left only with our words of hope, encouragement and togetherness – and our urgent desire for our world to be better. As a way of honoring all those affected by the Parkland tragedy, HandsOn Broward is calling upon the helping hands of our community and asking you to share your hearts by joining us in the following efforts.
Parkland Hearts Art Project
We invite you to join others throughout our community and our country who are writing out their thoughts and sending them to be shared and memorialized. Follow the steps below to send your Parkland Heart.
To engage your classroom, team or family in the Parkland Hearts project, please download our toolkit HERE.
Step 1: Using a stencil, your own art or one of the templates provided in the Parkland Hearts toolkit, create and cut your heart from paper, cardstock or other material of your choosing. Hearts should be white to provide the best background contrast for your message and may be any size.
Step 2: Share your thoughts, feelings, hopes and messages of support and encouragement. These can be messages to victims, their families or to our struggling community. Draw or color, decorate if you like. Share a poem or a lyric, a note or your whole heart. Feel free to snap a photo of your heart and share it to your social streams using the hashtag #parklandhearts.
Step 3: Mail or hand-deliver your hearts to HandsOn Broward at 5815-A N. Andrews Way, Fort Lauderdale FL, 33309. HandsOn Broward will collect the hearts to share with our community and to create an art installation that will preserve the memory of our shared experience while honoring those affected by this senseless tragedy. If you choose to hand-deliver, please contact HandsOn Broward at 954-233-1300 to schedule your drop-off.
In the coming months, HandsOn Broward will work with affected Parkland families to create 17 service projects honoring those lost at MSDH. At each of those projects, volunteers will help create a single art panel from paper Parkland Hearts. Once completed, a total of 17 panels will join to form an art installation that will be showcased locally as a document of the moment and the reactions to the resulting movement. HandsOn Broward will share information on the progress of the project on social media (links listed below).
Parkland Hearts Service Projects
In honor of the 17 lives lost in the Parkland tragedy, HandsOn Broward will be working with Parkland families, local volunteers and nonprofit partners to create 17 service projects that positively impact issues important to our community. If you are interested in supporting service efforts to honor and remember those lost, please contact Kristina DaSilva at 954-233-1293 or kristina@handsonbroward.org.
GET INVOLVED!
HandsOn Broward will be coordinating all of the service projects in memory of the 17 victims of the events on February 14th. In order to make each project meaningful, thoughtful and positive we are reaching out to the community to gather supplies to be donated directly to each project.
An Amazon wish list has been created for members of the community to shop and donate supplies directly to a project of their choosing. Monetary donations will be used to purchase paint, brushes, plants, building materials, canned goods, and any other supplies needed to complete the community service projects. To donate directly to the Parkland Hearts Project Fund, please click the link below to see how you can get involved!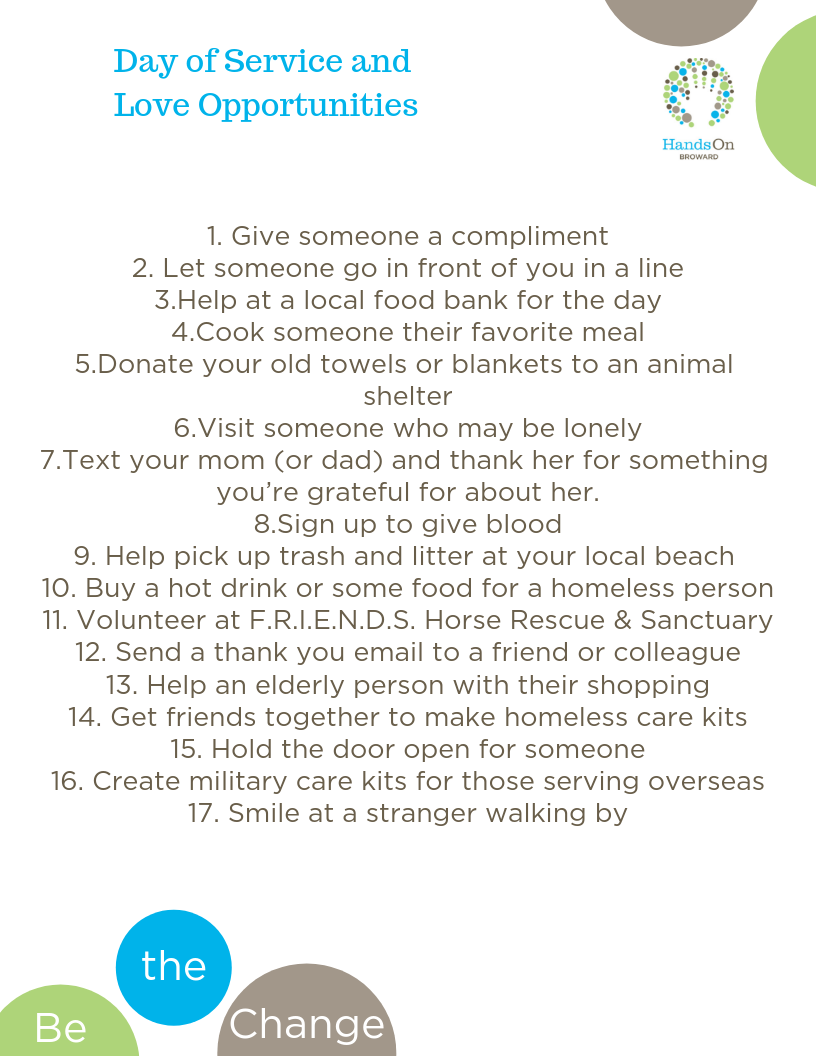 FOLLOW @PARKLANDHEARTS ON SOCIAL MEDIA
FOR MORE INFORMATION PLEASE GO TO:
Facebook | Instagram | Twitter