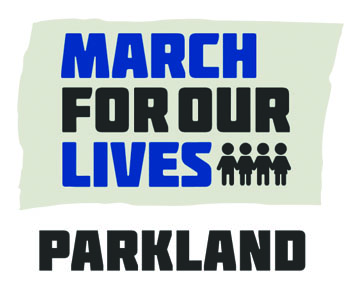 MARCH FOR OUR LIVES – PARKLAND | EVENT VOLUNTEERS
On March 24, the students and families of March For Our Lives will take to the streets to demand that their lives and safety become a priority and that we end gun violence and mass shootings in our schools. March For Our Lives - Parkland will need hundreds of volunteers for this important event including:
Offsite parking and shuttle bus volunteers
Event ushers to direct people to the event upon arrival and at the event site
Hospitality volunteers to man information tent and water/snack stations at rally and along march route
ADA volunteers to assist disabled attendees
March route marshals to direct marchers along march route
**IMPORTANT: All volunteers must attend a mandatory volunteer training on Friday 3/23 at 6:00PM at the Pine Trails Park Amphitheater, 10555 Trails End, Parkland, FL 33076
CLICK HERE for a complete list of opportunities and to register as a volunteer.
STUDENT AMBASSADORS
March for Our Lives – Parkland is seeking student ambassadors leading up to the march. The Student Ambassador role would require students at participating schools to:
Be involved with the Executive Planning Committee on calls and in meetings, as needed
Be the marketing and communications person on behalf of the event at your school
Be a liaison/leader at your school with administration, faculty, parents and the student body providing them with the information and resources to encourage participation
Assist in organizing any pre-March efforts to drum up participation such as a sign-making event or fundraising efforts
Act as the on-site coordinator the day of the March and point person for your school
To register to become a student ambassador, please respond MFOLParklandVolunteers@gmail.com by:
Emailing your name and contact information
Indicating the name of your High School and address
March for Our Lives - Parkland is coordinated by youth and supported by adults who are members of the March for Our Lives - Parkland Event Committee.
Please feel free to follow the conversation on Facebook.